A Night at the Opera
We started the morning with a long pre-breakfast walk around the Balmain East foreshore. After rearranging our flights home to avoid a 9-hour stop over in Hong Kong, we took the ferry to Circular Quay only to discover that Pauline forgot to pack her lipstick. We searched hi and low for a store that sold lipstick acceptable to Pauline. It turns out that lipstick in Australia is 4 times the price of the same brand in Canada. Ever thrifty, Pauline put off her purchase.
We had a well-deserved beer and simple but good dinner at the Paragon Hotel. I guess we are creatures of habit. Then off to the Opera House to enjoy a glass of bubbly, the view of the harbour and of course the production of Carmen.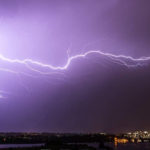 We had to sneak out during the thunderous applause so we could catch out ferry home and it was a good thing we did. As we walked to the ferry the sky was alight with an amazing lightning storm. As we arrived at the ferry terminal lightening was joined by sheets of driving rain. Safe and dry under the cover of the terminal, we witnessed our less fortunate fellow opera patrons being drenched as they now began to exit the Opera house.
As we disembarked the ferry, contemplating the soaking we were about to receive, the ferry attendant handed us umbrellas, asking to return them the next time we took a ferry. Now that's what I call service!