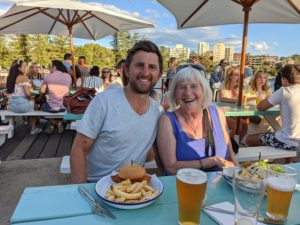 Back to Manly
We only had two items on our agenda today:
Rebook our flights home to avoid a 9-hour stop over in Hong Kong.
Meet up with George and Wendy's nephew Cam, who had immigrated to Australia from Scotland.
We had the pleasure of meeting Cam in Canada when he came to Peter's wedding and joined the family for a ski vacation at Silver Star a few years ago. He now lives near Manly so we arranged to meet up with him for dinner at the ferry terminal. We arrived mid afternoon to continue our exploration on Manly and get Guy's daily gelato and our 10k steps in.
It was great catching up with Cam, like his uncle and mother, he's a consummate raconteur. We enjoyed hearing how he had serendipitously turned a team football trip to permanent residency in Australia. Spontaneously leaving all behind in Edinburgh, to find himself 6 years later with a job he enjoys, a mate and a 1 ½ year old son.