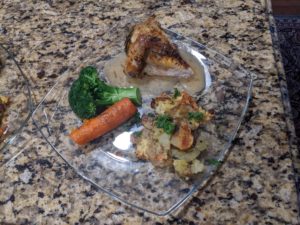 Smashed Potatoes
Last night I was roasting a chicken (recipe below)  and was wondering what to pair it with. I'm not particularly fond of mashed potatoes or anything mashed for that matter. I prefer something with a bit more texture.
I had some baby potatoes so I decided to make Smashed Potatoes. That might not sound like an exciting culinary delight, but it does liven up a meal, and roast chicken reminds me of the Sundays of my youth where inevitably my mother would roast a chicken and bake chocolate mocha cake. 
The What (for 2)
10 Baby Potatoes
2 tb olive oil
Salt & peper to taste
Parsley for garnish
The How
Preheat over to 425f
Boil potatoes until tender. I use an Instant Pot 18 minute pressure high natural release. Eric Dickie introduced me to the Instant Pot and it's a must have kitchen tool. If you don't have one, I suggest you get one. If I where on a deserted island (that had electricity) It would be one of two gadgets I'd bring along. The other being my Anova Sous-Vide.
Cover a cooking sheet with foil. Brush a little olive oil on the sheet.
Put a piece of parchment paper on a cutting board. Put 5 potatoes in a tight circle on one half of the parchment paper, fold the papere over the potatoes. Place another cutting board orver te first an press down. Since Pauline would object to having to clean two cutting board and because I have a lot of kitchen toys, I use a tortilla press instead.
Place the Smashed Potatoes on the foil push them around so that they form a tight but flat thing.
Repeat steps 4 & 5 as necessary
Brush olive oil on the potato things. Sprinkle with salt ( I prefer kosher) and pepper to taste.
Bake for 10 minutes until golden.
Plate and garnish with parsley
Roast Chicken
The What
1 small chicken
2 tb olive oil
2 tb Dijon Mustard
Paprika, Salt & Pepper to Taste
2 carrots (cut in half)
2 celery sticks (cut in half)
1 shallot (cut length wise in 4)
The How
Preheat over to 450f
Remove giblets etc. from chicken and pat dry and put of cutting board breast up.
Cut off the parson's nose and discard.
Place a butcher knife blade down through the chicken resting on the inside of its back.
Apply enough force on the knife to split the chicken's back
Flatten Chicken back side down.
Mix olive oil and mustard and brush on chicken, sprinkle on Paprika, Salt & Pepper to Taste
Place carrots, celery and shallots in the bottom of a deep casserole dish like a Le Creuset
Cover loosely with a piece of foil.
Place in oven and reduce rheat to 325f.
After 30 minutes remove foil and baste chicken.
Continue baking, uncovered, until chicken reaches 165f.
Remove from oven, cover and let stand for 20 minutes .
Increase heat to 424f and bake the Smashed potatoes.
Remove chicken and veggies from casserole.
Make gravy in the casserole using the scrapings etc.