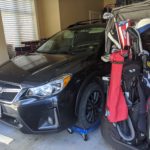 Tomorrow is Pauline's Birthday. So I'm going to make her some of her favorites dishes. She loves foie gras and I just happen to have a lobe in the freezer. Since its just the two od us I will cut it half and just defrost one of the halves. Today, however was move the Subaru into the garage day. So first I had to get everything out of the garage, back the Subaru in, host each wheel up and slip a dolly under it. Then shove the car into the corner, then put every thing back into the garage.
.
The What
½ a foie gras
2 tbs pepper
1 black truffle (which I did not have on hand)
1 tbs Kosher Salt
1 package cheese cloth
1 bamboo skewer
Lots of cold water
Lots of red wine
3 bay leaves
The How
Remove the veins from the fois gras
Thinly slice the truffle and add to foie gras
Add Salt and Pepper to fois gras
Form foie gras into a ball
Wrap fois gras in cheese cloth and tighten each end to for a sausage like thing.
Tie each end with string
Cut of excess cheese cloth
Push skewer though the cloth and obe end of the sausage.
Hang foie over long narrow pot
Add water till ½ the foie is submerged
Add wine to pot, leave a glass for yourself.
Add more water in needed to completely submerge foie
Transfer foie to another container ,fill with ice and water to submerge foie
Bring pot to a boil and remove from heat
Hang foie in pot for 90 seconds
Transfer foie to ice bath
Discard wine or use for making Beef Bourguignon
Cool pot quicky
Hang foie in pot and regrigerate 24 hours
Use a sushi mat to reform foie into thinner sausauge while still its cheese cloth.
Remove cheese cloth
Cut into ½ inch slice  and serve with a raspberry or blueberry coulis
gs.