After a lazy breakfast, we did our last-minute packing and check list:
Passports – Check
Tickets – Check
Medication – Check
Guy – ???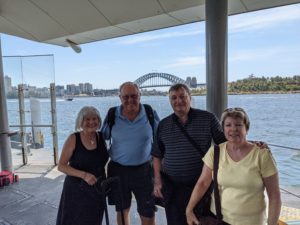 When guy returned from his last-minute errand, we walked and rolled (suitcases) down the hill to the Balmain East wharf where we boarded the ferry to Circular Quay. We then walk and rolled to the Cruise Ship Terminal where eventually we able to board the ship.  The current temperature in Sydney is 40c. This is the very first hot day we experienced here. Let me tell you, it's not only hot its humid and the UV index is Extreme 11. As Guy likes to say, timing is everything. We could not have picked a better time to leave Sydney.
We had a beer and lunch soon after boarding, and will be joining Steve and Suzanne for dinner shortly after we set sail, or more aptly turn the prop.
Sorry we are Going Dark!
Given that NCL want charge $30us/day or $360us/trip to connect a device to the internet through a sketchy satellite connection, we will only add to this blog when we are in Australian cell phone range (unlikely in New  Zealand) or in a port and we can take advantage of Free internet.