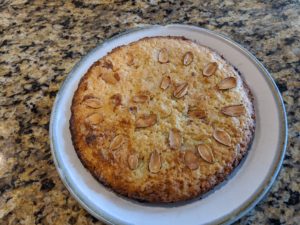 The What:
1/2 cup butter, softened
3/4 cup white sugar
1 eggs, beaten
1 tablespoon almond extract
1 1/4 cups all-purpose flour
1 teaspoons baking powder
Handful of almond halves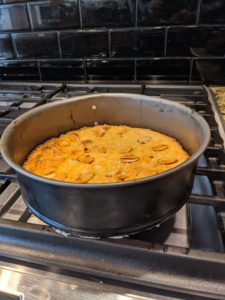 The How:
Preheat the oven to 350 degrees F.
Grease a 8 inch round cake pans the kind with removable bottom. I usually put baking paper on the bottom round thing before closing it and cut off the excess with scissors.
In a large bowl, beat butter and sugar until light and fluffy. Add egg, reserving just enough to brush over the top, about 1 tablespoon. Stir in the almond extract. Combine the flour and baking powder; stir into the batter by hand using a sturdy spoon. The dough will be the consistency of putty
Press into the pan. I use a wet spoon to smooth out the top and go around the edge creating a slight depression. Scatter the almond halves over the top. Sometimes I score slice marks on it but that's optional. Brush the top with left over egg.
Bake in the preheated oven for about 45 minutes, or until the top is golden brown.
Cool, Plate and Enjoy