Last night I had a dream about breakfast. I woke up with a start and made a note on my phone I case my inspiration be vaporized in the morning sun. Pizza Matinna. I google the term, it appears that there is a pizzeria going by that name, but not a pizza. So I hereby claim it as mine! 
When I make pizza, (see pizza recipe ) I always make a double size of dough. Usually I succumb to my inner self and make Toutons for breakfast. It reminds me of a wonderful adventure that Pauline, Wonda, Traver and I had on Fogo Island, NL. But that's for another story. Having some dough in the fridge, probably help my subconscious come up with the inspiration, but it's more romantic to think I have a muse working on my behalf.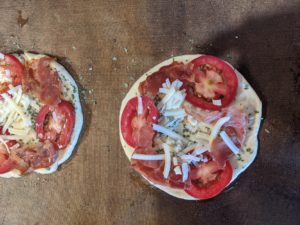 Place slices of Roma tomatoes and fried prosciutto in a ring around the edge of the dough.
Sprinkle Parmesan or a sharp Cheddar in the center.