Day 2: Eden
Eden is a coastal town  about 478 kilometres south of Sydney and is the most southerly town in New South Wales. It was recently in the news as fires forced residents to choose between staying and fighting for their homes or fleeing to safety.
We docked around 8:00am this morning and there was still smoke in the air. Pauline was already up trying to get her 10k (steps) in before breakfast. Guy was also up early so he could take his time getting ready for breakfast one of Guy's favorite meals of the day.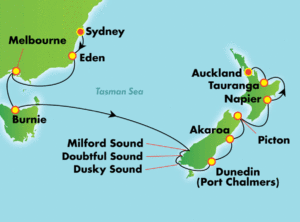 After breakfast we joined Suzanne and Steve and walked to the town center, some 1.5 kilometers away, and browsed the shops. There was not much to see or do in the town other than the Killer Whale Museum which we decided to pass.
On our return to the ship Pauline & Suzanne visited the stalls set up on the dock and found and bought some clothing that were to their liking. Guy saved the planet by buying reusable produce bags and wondered why we had not just shopped here instead of walking all the way up to the town where no one bought anything☹
Pauline & Guy are looking forward to tonight's Norwegian's Night Out Party where they can dress up and dance the night away. It's also Chinese New Year, which they might ring in if they are not already asleep!