Great Ocean Road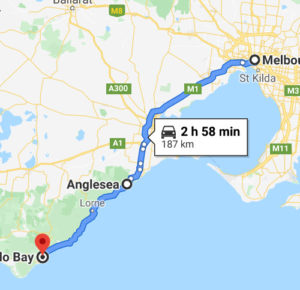 We woke to a raging storm where the rain was being drive sideways. We had visions of being soaked to the bone loading our car with our paraphernalia. Fortunately, storms come and go quickly in Melbourne and by the time we finished breakfast we were able to leave the flat unscathed.
We left Melbourne around 10:30am and got to the start of the Great Ocean Road in Anglesea by noon. Australia, like New Zealand have unusual speed limits. Speed is well controlled on the major highways, changing from 110 to 40kph based on traffic and hazards. However, the limit on country roads seem to be 100kph regardless of how narrow, windy or without shoulders. Pauline kept reminding Guy not to speed, Guy kept reminding Pauline that he was actually 20kph under the speed limit. We stopped along the way for lunch, many photo ops and beach walks eventually reaching Apollo by 3:00pm.
We were somewhat surprised and disappointed that most of the restaurants that we had scouted out when first arrived in Apollo Bay were closed by the time we decided to dine around 7:00pm. After sampling the fair from that was open, we decided we would have been better off if it had been closed as well.