Yesterday I began preparing a Torchon of Foie Gras. It has been hanging in my fridge for 24 hours. So my day today started by making a simple breakfast for Pauline. I had some leftover walnut cake so I made her a strawberry walnut yogurt parfait and a poached egg on an English muffin. Then I went and played my guitar, cleaned up the garage and made her The Wall Birthday Video and Book and had lunch.
At 2:00 I cut a 8 inch piece of tenderloin into 8 small 2 in thick steaks. Pauline and I love red meat but in small quantities. A 2-3 oz steak is perfect for us. I reserved two, peppered then up and sealed in a vacuumed sealed bag and left them on the counter to mellow. I wrapped the other steaks individually and shoved them in a freezer bag and put them in our freezer to enjoy at some later date. That took all of 5 minutes, so I went and played some more.
At 3:00 pm I started to make a video of my Mixed Berries Clafouti recipe, which I was serving for desert, only to discover that I took a photo instead of a video. I should probably get a new camera man😊
 Mixed Berries Clafouti
The What
1 tbs butter
½ cup sugar
3 eggs
1 cup milk
1 tbsp salt
1 tbs Vanilla extract
½ cup flour
1 cup mixed berries ( Cherries, Blackberries and Blueberries)
½ cup chocolate nibs (reserve for toping)
Blueberry Coulis ( to serve with Torchon)
The What
 ½ cup of blueberries (frozen is fine)
1 oz rum
2 tbs sugar
The How
Preheat over to 400F
Place a piece of parchment paper over the bottom of a spring form pan.
Grease bottom and sides of pan with butter
Put sugar, eggs, milk salt and vanilla in a medium size bowl and beat unto smooth.
Add flour and beat unto smooth.
Pour half of the batter in prepared pan and bake for 10 minutes
Place berries in pan a couple at a time into a pretty pattern or just throw them in haphazardly and hope for the best.
Pour remaining batter in pan gently not to disturb you art work.
Bake for 45 minutes or until it is golden brown and firm-ish to the touch.
Remove from oven and let cool. Your beautiful creation will deflate a bit as it cools. Don't worry, that's what it does.
Plate (see video)
Place chocolate in a shallow glass bowl a,d microwave medium hi for 40 seconds. If the chocolate has not begun to melt, nuke it on high for 10 seconds check and repeat as necessary.
Mix chocolate with a spoon until all the chocolate has melted.
Use the spoon to drip artistic designs on the clafouti.
Let cool in a dark and draft free place where your guests are not likely to find it.
 The How
Put all ingredients into a pot and bring to a boil. Lower heat and simmer 5 mimutes
Put in a bullet or blender and process until smooth.
Cool and reverse until needed.
Plate one slice of Torchon, decorate with a swirl of coulis.
---
I won't bore you with how to make frites, pan roasted cherry tomatoes, butter fried mushrooms or steaks, but I will let you in on my green peppercorn sauce secret. You can find green peppercorn in little flat tins or skinny glass bottles in the aisle near where they usually hide the Capers.
Put 3 tbs of peppercorns in a shallow bowl and add 1 2/ oz brandy. Set aside for 2-3 hours so they get to know each other better. I used a sous-vide at 120F for 3 hours on the streaks and finished them off in a cast iron pan where I had fried my mushrooms in lots of butter.
Set aside the steaks and mushrooms,
Add 1 tbs flour to butter in pan and scrape the pan with a wooden spoon to create a roux.
Add brandied pepper corns, flambe if Pauline's not watching,
add 1 cup of water, a shot of Beef Bovril. I only finished my steaks for 30 seconds (rare) so I need an extra kick of flavour. If you kill your steaks you probably have enough scrapings for a sauce so omit the Bovril.
Add 1 heaping tablespoon of cream fraiche, sour cream or plain yogurt whatever is on hand. Stir with spoon until it's beautiful.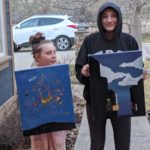 Our dinner was briefly but wonderfully interrupted by a knock at the door. Our grand-daughters Leia and Keala presented Pauline, all the while properly practicing appropriate social distances, with paintings they had made for the occasion.
 We topped the evening by watching Pauline's Birthday Celebration Video!
  Covid-19 or Not! This was a birthday worth remembering!